This is definitely a trash turned treasures idea.
My in-laws were throwing out this old house plant basket, so I decided to take it and find a use for it.
I like to have throw blankets in my living room to curl up with while watching a movie, but I was really tired of seeing them collect on my couch. So, I decided to roll up some throw blankets and store them in the old plant basket right in my living room. They're contained in the pretty basket, but easily available right in my living room.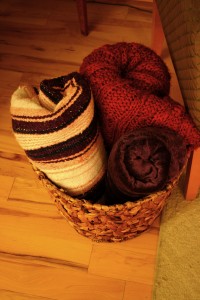 So, if your house plants have bit the dust this winter, don't get rid of the pretty house plant basket. Just Re-purpose It!