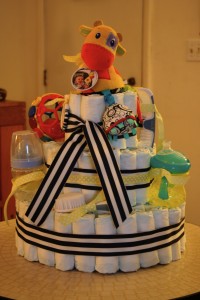 I've always wanted to make a diaper cake and this last week I had the opportunity to do just that! A few of my girlfriends and I threw a baby shower for another friend due to have her baby in just a couple weeks. We wondered what we could do for decor and what gift we could give her and the diaper cake seemed like just the perfect thing! Read on to see how you can snatch one of these great diaper cakes for your next baby shower.
For this diaper cake I used 100, size 2 Pampers Diapers that the mom-to-be can use for her little one in the not too far future. All of the toys and baby care items on the cake were items from her baby registry, so its stuff she'll definitely use.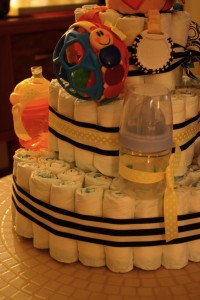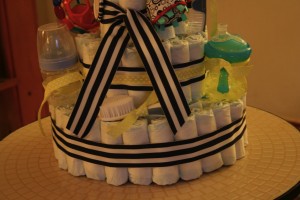 The items on this cake include 3 baby bottles (2 on the inside of the cake, 1 on the lower tier), 2 sippy cups, 1 baby teething toy, 1 baby comb and 1 baby brush, and 1 giraffe sensory toy.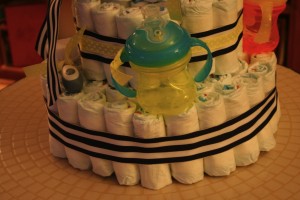 The navy blue and white striped ribbon with touches of pale yellow ribbon with white polka dots I chose to use on this diaper cake was inspired by the mom-to-be's nautical themed nursery.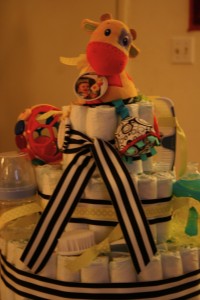 This diaper cake was a hit! As you can see (below) it was a beautiful centerpiece that was usable decoration for the baby shower. The mom-to-be can leave it put together for a time in her nursery as decor, or disassemble it and use the items as soon as her baby arrives.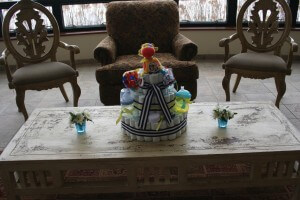 I loved making this diaper cake and it turned out to be such a fun gift! As one of my services, I'm now offering to make diaper cakes for your next baby shower. There are so many different types of diaper cakes. The one I created for this baby shower uses baby toys and care items on the tiers as decor. As you can see the one below uses simple ribbon and flowers as the decor.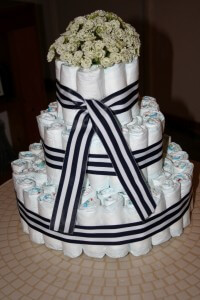 No matter what theme, colors, or design you want to follow, I'll create the perfect gift/centerpiece. Prices vary depending upon the size of the cake, the decor on the tiers, using items from the mom-to-be's gift registry, etc.
If you're interested in a diaper cake please send me a note by clicking the Ask Madindy tab at the top of the page. In the Subject line please indicate "Diaper Cake" and under Your Message please describe more about what you'd like to see included in your diaper cake, including when you'll need to receive your diaper cake. I'll reply with an estimated cost and some design ideas.