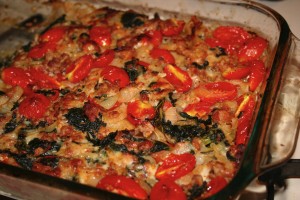 I found this recipe from Martha Stewart and was able to adapt it to fit my dietary restrictions. Its warm and hearty, a meal in one dish, and it incorporates Kale (a winter green with tons of great nutrients to ward off winter illnesses). Enjoy!
Ingredients:
12 oz GF spicy Italian Sausage, removed casings and crumbled (Grocery source: Whole Foods, or I found some this week at Walmart)
2 large onions, halved and thinly sliced (if onions are large, use a little less than 2)
1 bunch (1 1/2 pounds) Kale, thick stems removed
4 garlic cloves, minced
Coarse salt and ground pepper
8 oz (about 9 noodles) GF lasagna noodles (for GF noodles follow package instructions. GF brands to look for are De Boles and Tinkyada. They can be found in most grocery stores that have a GF section.)
1 pint cherry or grape tomatoes, halved
1 bag dairy free, casein free, GF shredded mozarella style cheese that melts (The best one I've found thus far is Daiya found at Whole Foods. If you can eat casein, Rice Cheeze, also found at Whole Foods is a great choice.)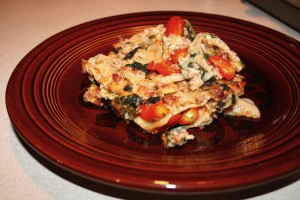 Directions:
1. Preheat oven to 400 degrees. In a 5 quart pot, cook sausage over medium heat, stir often, until browned, about 5 minutes. Stir in onions; cover and cook until softened, 5 minutes. Uncover and cook, stirring occasionally, until golden brown, 10 to 15 minutes. Add garlic and cook 2 minutes. Transfer to large bowl.
2. Add Kale and 1/2 cup water to pot; season with salt and pepper. Cover and cook over medium-low heat, tossing occasionally, until tender 10 to 15 minutes. Drain and then coarsely chop. Transfer to bowl with onions and stir in tomatoes, seasoning with 1 1/2 tsp salt and 1/2 tsp pepper.
3. Meanwhile, cook noodles 2 minutes less than package instructions (some GF brands instruct to not cook before putting into lasagna, so make sure to check). Drain and rinse under cold water.
4. Layer a third of the mixture into bottom of pan, then add noodle layer, then mixture layer, then noddles, then mixture on top. Bake until golden brown and bubbly delicious, about 40 minutes. Cool 10 minutes before serving. Enjoy!