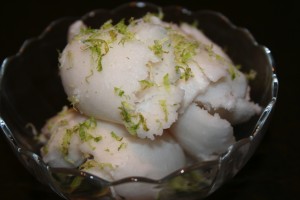 Even though its a cold, blustery day I thought I'd share this recipe for Coconut Sorbet.
Since I don't eat dairy, a creamy ice cream treat always hits the spot. Sorbet is one option for those who don't eat dairy, but this sorbet has that creamy texture like real ice cream because it uses cream of coconut as the base.
I make this tasty treat year round in my ice cream maker (automatic). Enjoy this delicious treat…In fact I'm enjoying it as I post!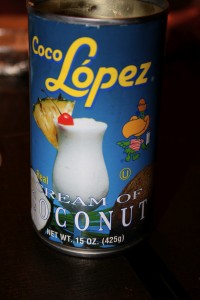 Ingredients:
1 can cream of coconut, sweetened
1 (equal to can amount of water)
1 teaspoon vanilla extract
*Make sure you use cream of coconut, not coconut milk or coconut cream…I've made both these mistakes and it does not turn out well.
Directions:
Mix all ingredients together. Pour mixture into ice cream maker. Mix in ice cream maker for 20 minutes. Place in freezer for 6 hours. Then serve with lime zest or chocolate chips, whatever. Enjoy!
* Recipe Source: Cuisine Art Ice Cream and Sorbet Maker Recipes