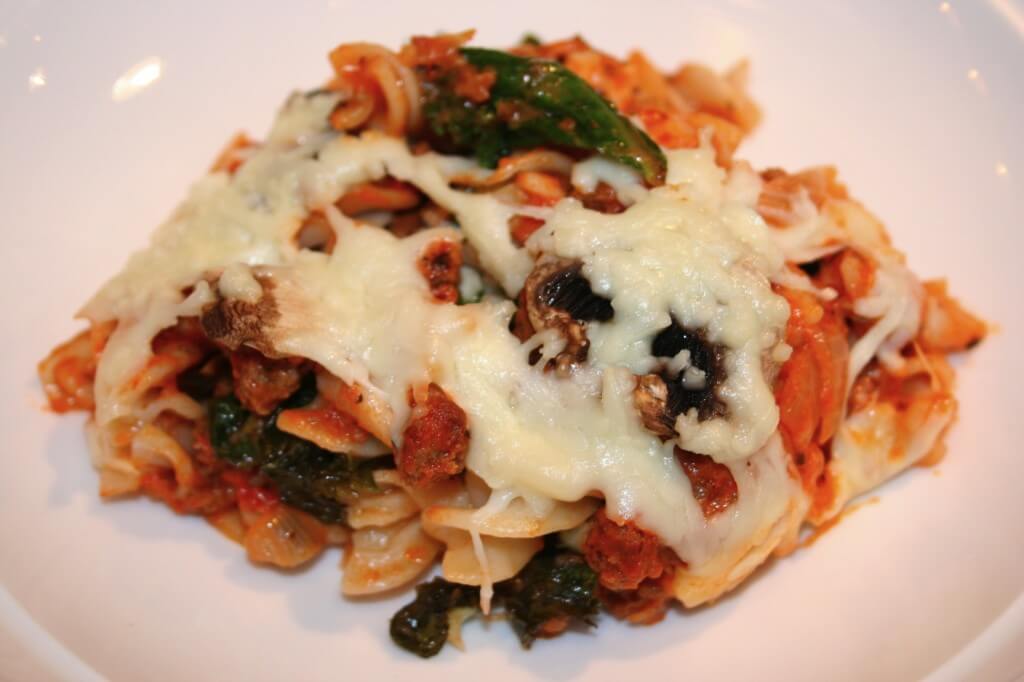 I've been gathering large bunches of kale from our garden and trying to cook them up in a variety of ways, so look forward to some tasty kale recipes including this one.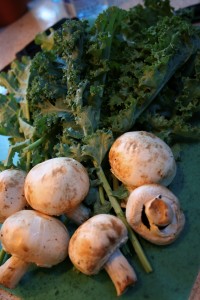 I came home the other day craving something hearty and cheesy, yet knew I had all these fresh veggies I needed to cook up as well. This recipe for Baked Pasta Marinara with Goat Cheese & Kale is the result. Its an original recipe of mine and I'm happy to be sharing it with you.
Ingredients:
1/2 cup crumbled goat cheese
1 1/2 cups grated cheese or cheese substitute (I used Daiya brand from Whole Foods)
1/2 pound ground beef
1 jar (26 oz.) pasta sauce
2 tablespoons olive oil
1 small onion, diced
2 cups sliced button mushrooms
1 1/2 teaspoons minced garlic
2 teaspoons Italian seasoning
16 oz. gluten free brown rice pasta (fusilli style)
1/4 cup water
Salt and pepper to taste
Directions:
1. Preheat oven to 375 degrees. Cook pasta slightly aldente, in salted water, according to package directions. Set aside.
2. While pasta is cooking, brown beef in large sauce pan. Add salt and pepper to taste and the Italian seasoning and 1/2 teaspoon minced garlic.
3. Drain meat. Add jar of sauce and goat cheese to the saucepan. Set aside.
4. Saute kale in 1 tablespoon olive oil (adding more if needed) with 1 teaspoon minced garlic, salt and pepper to taste. Once kale is wilted and begins to get dry add 1/4 cup water and continue cooking until kale is soft and water is absorbed.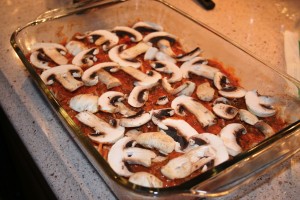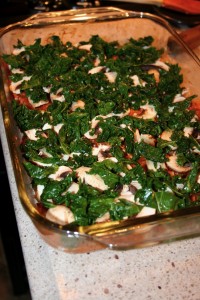 5. Grease a 9 X 13 baking dish with remaining olive oil. Layer pasta, then sauce mixture, then mushrooms, then kale mixture. Pasta again, then sauce mixture, then mushrooms. And top it with grated cheese.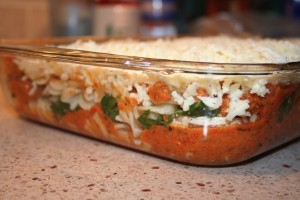 6. Bake at 375 degrees for 15 minutes, covering with foil if cheese browns. Serve and enjoy!
*Recipe Source: Madison Sommerfield
*Recipe Serves: 4 to 6 people