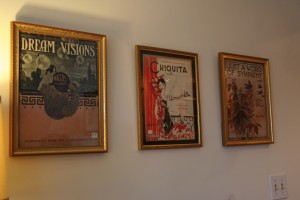 I'm launching a new segment today called "Re-purpose It." I seem to continue to find really neat antique (and sometimes just old) stuff that I tend to always find a new purpose for. I have a love for stuff that has a history. I hate to see these snippets of history just die away in the past as forgotten memories. Sometimes these antique tid-bits' purpose has died away with technological advancements or social customs have taken away their usefulness. So, I say give the old stuff a new life by finding a new purpose for it!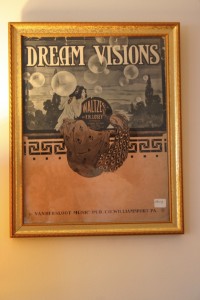 Here's the first idea: Re-purpose Antique Sheet Music
I found these three sets of sheet music for $2 and $3 dollars each at an antique store in Michigan. I'm not really a music buff, but loved the beautiful sheet cover designs. The sheet music shown in the photos date from 1909, 1916, and 1928.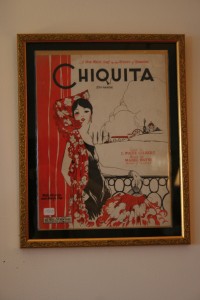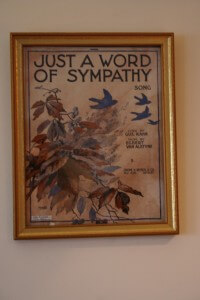 I saw these beautiful sets and could picture someone playing the music in their parlor in the early 20th century. With the perfect frames to house them, they now grace my living room walls as memories of a simpler time. Don't worry, I didn't pitch the actual sheet music. The full set of sheet music is in the frame as well.
Next time, instead of paying for pre-framed artwork from a home store, why not frame a unique piece of history with a story! Have fun on the search!